Save the Date!
2024 CCA Soirée will be held on April 6, 2024 at the Georgia Aquarium honoring our Veterans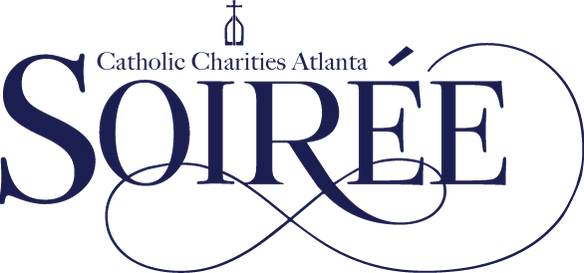 The CCA Soirée is an annual event and is the agency's largest fundraiser averaging approximately 450 attendees each year. This annual event has raised collectively over $3 million – funds which go directly to the programs and services that CCA provides to its clients in need.
I would like to make a gift
THANK YOU FOR MAKING OUR 2023, 16TH ANNUAL SOIRÉE A SUCCESS!
Catholic Charities of Atlanta's (CCA) 16th annual Soirée raised over $230K, 100K of which was raised in the Fund-A-Need part of the event that is specifically going to the Mental Health Counseling Programs. Emcee Fox News Evening Host, Russ Spencer was there to help shed a light on the great need for Mental Health Awareness especially with the month of May being Mental Health Awareness Month.
CCA serves low- income individuals, veterans, families and children who need therapy. According to Forbes Magazine Health, young adults ages 18 to 25 in the U.S. have the highest rate of experiencing any mental health concerns (30.6%) compared to adults aged 26 to 49 years.
"Our ability to support these individuals and families is critical. The response to their needs at the Soirée was a true blessing and will enable us to improve the lives of those suffering from mental health issues. We are so grateful."
All proceeds from our silent auction went directly to the programs and services CCA provides.
Thank You to Our Presenting Sponsors
Silver Sponsors
Jean Ann & Barry McCarthy, Eversheds Sutherland
Bronze Sponsors
Canonbury Homes, Inc, HC Advisors, Jane & Jack Nichols, LCG Associates, The Crean Family, Regions Bank
Sapphire Sponsors
Beth & Steve Crim, Flying Laboratories, Chmaine & Mike Dowdle, Janice and Mike Flanagan, SMARTSuccess LLC, Kara & Jeff Hogan, Sandy Ho & Jeff Klumpp, Vanessa & Steven Russell, Katy and Mark Walker, Heagney Logan Group, Lisa & Ken Menendez, Holly & Brian Monaghan, Westfall Gold, Great Southern Bank, The Catholic Foundation of North Georgia, Alejandra & Albert Assad, Dorothy & Dave Markert
Non-Profit/Parish Sponsors
Cathedral of Christ the King, Mercy Care Foundation, Holy Spirit Catholic Church, Catholic Church of the Transfiguration, Georgia United Credit Union, Saint Vincent de Paul Georgia, Pinecrest Academy, Pregnancy Aid Clinic, Saint Brigid Catholic Church, Knights of Columbus Charities of Georgia, Saint Jude the Apostle Church, Our Lady of the Assumption Catholic Church, Saint Pius Catholic High School, Saint Peter Chanel Catholic Church, The Catholic Center at UGA, Saint Stephen the Martyr Catholic Church
Supporter Sponsors
Denise Dooley Mitchell and Jay D. Mitchell, Jones & Kolb, POWER 10