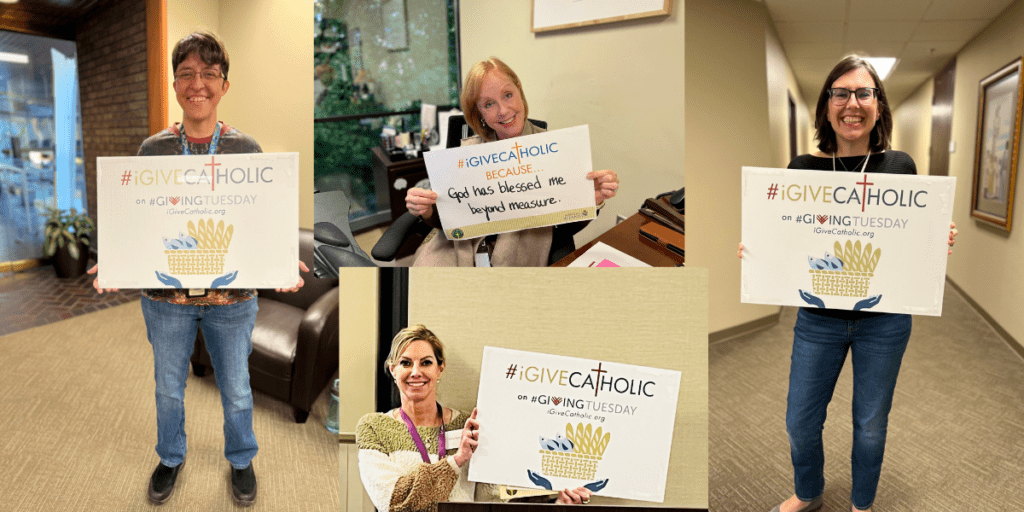 Tuesday, November 28th is Giving Tuesday–an international day of giving that brings nonprofits, donors, businesses, and communities together to celebrate generosity and the impact of giving back.  You don't have to wait until November, 28th-You can donate now to make an impact on the families we serve!
 #iGiveCatholic is the U.S. Catholic Church's annual giving day, so we'll be participating along with thousands of other Catholic churches, schools and ministries across the country — all celebrating the impact of Catholic organizations serving our diverse communities!
The theme for the day is "Helping the most vulnerable in our society" All of our messaging will include how our services promote self-sufficiency for our clients in need.
We have a goal of raising $20,000 in a 24-hour period to fund the services that help the Seniors and Children in our programs.
Ways you can help reach our goal:
Help us make this initiative go viral! If everyone shares the message of support of CCA on Giving Tuesday, we can reach our goal.
Print out one of the attached signs and take a picture of yourself with it and share on social media or by email with your network. Make sure to tag back CCA's social media accounts. Use the hashtags #GAGivesDay or #iGiveCatholic.
Send out an email similar to the sample one below to everyone in your email list—family, friends, your men's or women's club at church, your ALTA team, card group, etc. Make sure to include donation links to either #GAGivesDay or #iGiveCatholic.
Follow CCA's social media sites (Facebook, Twitter, Instagram, and LinkedIn accounts ) for regular updates and shareable content. Share anything we post or use one of the sample messages below. (If you have a teenager or young adult in the house, ask them to tweet about it, post it on Instagram, etc.)